Since ages, I've had these Logitech V20 speakers (serial number S-0155A) which get both their power and their audio over USB: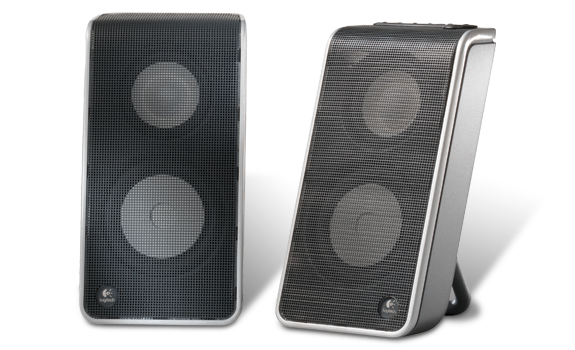 There are a couple of awesome things about these:
If you have a laptop and want something close to a docking station, then just get a USB hub, connect these speakers along with your other peripherals and save yourself the connecting/disconnecting of the 3.5 mm audio jack each morning.
If you have a device without a 3.5 mm audio jack, but does have USB, this is a great way to get sound. For example most Synology disk stations support these speakers.
If you have a PC with a terribly noisy audio jack, these speakers give you a great way to get decent quality audio without the interference.
They're supported on every OS that I know: Linux, OS X, Windows.
Until recently, people would ask me where to get these. But unfortunately they long since went out of stock everywhere and you'd have to rely on the second-hand market. But lately I found out that Logitech makes a new model that strictly uses USB for both audio and power: the Logitech S150.
Edit 2016-11-28: a colleague pointed me to other speakers that are hooked up via USB only:
Edit 2016-12-07: I've tested the Logitech S150 and they're not comparable in sound quality to the old v20 speakers. I'd only advise these as a step up from laptop speakers.